News
Rtone announces the sale of Rbee Solar to MyLight Systems as part of a €3 million financing plan
---
PRESS RELEASE
Lyon, 11 September 2019 - Expert in connected solution design Rtone has announced the sale of Rbee Solar, a photovoltaic production monitoring solution, to MyLight Systems, specialist in solar self-consumption systems.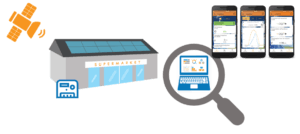 Rbee Solar, a smart meter connected to a data monitoring platform
Rtone bolsters its leadership on the connected solutions market
Connected solutions expert Rtone has announced the sale of Rbee Solar, its photovoltaic production monitoring solution launched in 2008, to MyLight Systems, a specialist in solar self-consumption systems.
After creating a Cloud application (SaaS) and installing over 20,000 smart meters in Europe and Asia, Rtone chose to outsource the management of this activity to MyLight Systems. Rtone has confirmed its choice to focus on developing tailor-made solutions for its B2B customers on markets such as the Smart City, Home appliances (home automation) or IIoT (Industrial IoT).
Looking for more information about RTone?
Rbee Solar, the first connected product that forged Rtone's identity
Launched in 2008, Rbee Solar was designed to be a simple and easy to install solution. Comprising a meter, data transfer system and cloud monitoring platform, Rbee Solar was the first connected product designed by Rtone, blending four skills that make it strong today: electronics (hardware), embedded software (firmware), the cloud and mobile connectivity.
"In order to continue Rbee Solar's growth in France and abroad, we have decided to entrust the activity to a specialised player in the photovoltaic market. We are pleased that Lyon-based MyLight Systems is taking over this activity to restore the momentum it deserves, because the complementary nature of this solution makes it integral to their offering," says Rtone CEO Adrien Desportes.
The acquisition of Rbee Solar by MyLight Systems is part of an extensive investment plan worth €3 million.
"Rbee Solar's technological innovation and international presence match our ambitions and have justified a global investment of €3 million," explains Ondine Suavet, Managing Director of MyLight Systems.
Download the official press release - 11.09.2019 - Rtone announces sale of Rbee Solar